Quinto trabajo colmado de colaboraciones e inicio de una nueva serie de entregas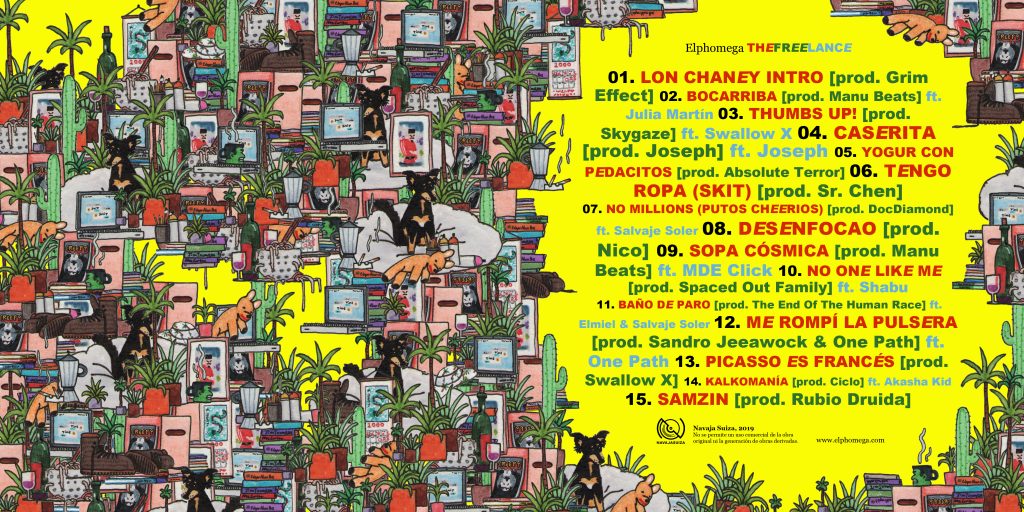 Ya está disponible en plataformas digitales el quinto largo de Elphomega, primero de una serie de entregas y concebido con la informalidad de una mixtape colmada de colaboraciones, desde el inseparable Doc Diamond, encargado del mastering, pasando por referentes de la escena como One Path, Manu Beats, Ciclo, Absolute Terror o Sandro Jeeawock, entre muchos otros. Un total de 15 cortes, en los que los géneros y estilos se intercalan sin ningún tipo de prejuicio y con artwork del propio Elphomega sobre ilustraciones de Imon Boy, The Freelance, editado por Navaja Suiza, ya está disponible en plataformas como bandcamp, spotify o deezer.

Tras los adelantos BAÑO DE PARO, DESENFOCAO y KALKOMANÍA, con sus correspondientes videoclips, este nuevo trabajo viene a demostrar la versatilidad del mc malagueño, en una apuesta por acercarse a los nuevos referentes, tendiendo puentes hacia todo tipo de beats. La galería de productores y colaboraciones vocales de tan diferentes cunas que conforman el tracklist confirman la necesidad de Elphomega de transitar libre y sin prejuicios en The Freelance, tras una entrega más profunda, como fue el caso de Nebuloso, su anterior 2LP. Trabajar desde la diversión, tirando de todo tipo de beats, devolviendo el protagonismo a ciertos recursos estilísticos de sus comienzos y dotando al conjunto de un aire ecléctico y un cierto regusto a demo e improvisación. En definitiva, devolviendo ese fresh mode de los inicios a estos 15 cortes con la mirada puesta en el futuro.
The Freelance es la primera entrega de una serie en la que Elphomega seguirá la senda marcada por las formas de hacer de los inicios de la cultura urbana, en los que la improvisación y la composición lo-fi se asociaban para dar cabida al contenido, pero ampliando este concepto y llevándolo hacia estilos más actuales. Del boom bap noventero de "Desenfocao" y "Sopa Cósmica" al ambient oscuro de "Caserita" o "Kalkomanía", del sonido más orgánico y angelino de "No one like me" o el clasicismo electrofunk de "No millions (Putos Cheerios)" al urban más rabioso de "Picasso es francés" o a una revisitación del sonido Del Palo regado de autotune en "Thumbs Up!"…
Este enfoque sería imposible sin la química desplegada entre el artista y sus colaboradores: productores, algunos bien consagrados y otros en creciente ascenso como Skygaze, Nico, The End Of The Human Race, Doc Diamond, Sandro Jeeawock, Sr. Chen, Manu Beats, Grim Effect, Ciclo, Absolute Terror, Rubio Druida y su colectivo Spaced Out Family; las versátiles voces de Akasha Kid, Elmiel, Salvaje Soler y Shabu; o los artistas completos Joseph, Swallow X y One Path.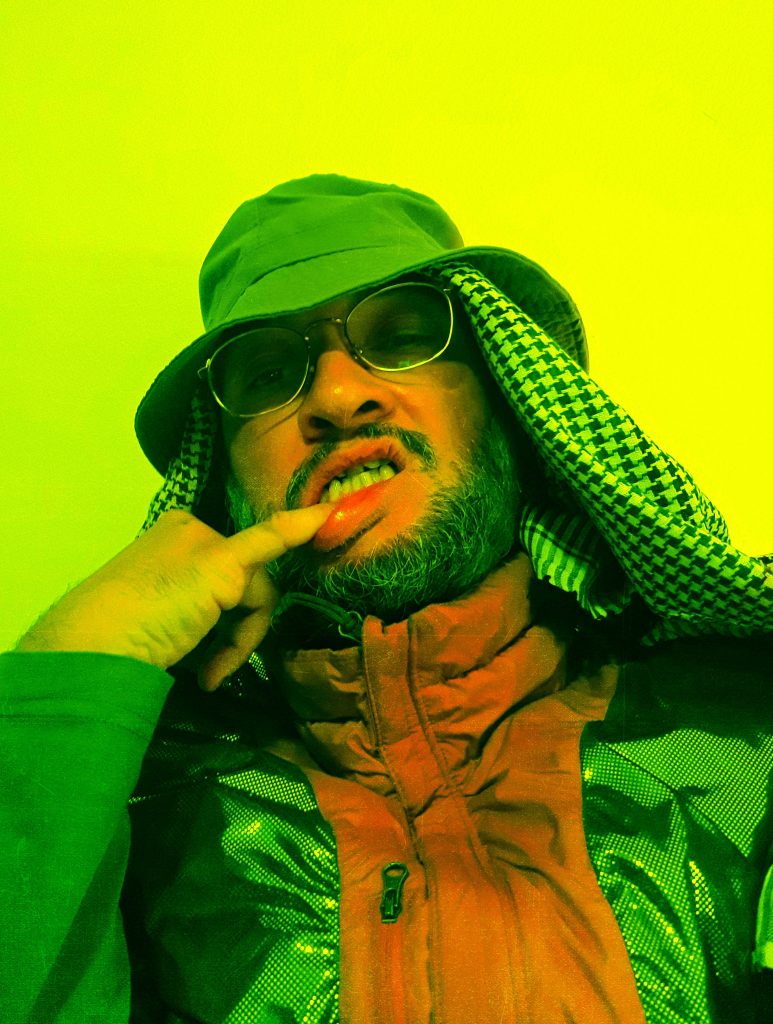 Elphomega THE FREELANCE

TRACKLIST

01. LON CHANEY INTRO [prod. Grim Effect]

02. BOCARRIBA [prod. Manu Beats] feat Julia Martín

03. THUMBS UP! [prod. Skygaze] feat Swallow X

04. CASERITA [prod. Joseph] feat Joseph
05. YOGUR CON PEDACITOS [prod. Absolute Terror]

06. TENGO ROPA (SKIT) [prod. Sr. Chen]
07. NO MILLIONS (PUTOS CHEERIOS) [prod. Doc Diamond] feat Salvaje Soler

08. DESENFOCAO [prod. Nico]

09. SOPA CÓSMICA [prod. Manu Beats] feat MDE Click

10. NO ONE LIKE ME [prod. Spaced Out Family] feat Shabu

11. BAÑO DE PARO [prod. The End Of The Human Race]
feat El Miel & Salvaje Soler

12. ME ROMPÍ LA PULSERA [prod. Sandro Jeeawock & One Path] feat One Path

13. PICASSO ES FRANCÉS [prod. Swallow X]

14. KALKOMANÍA [prod. Ciclo] feat Akasha Kid

15. SAMZIN [prod. Rubio Druida]
Enlaces a YouTube de videosingles

VIDEOCLIPS
BAÑO DE PARO [prod. The End Of The Human Race]
feat El Miel & Salvaje Soler https://www.youtube.com/watch?v=WhiChxfXJUA
DESENFOCAO [prod. Nico] https://www.youtube.com/watch?v=zKFYyLCNWz8
KALKOMANÍA [prod. Ciclo] feat Akasha Kid https://www.youtube.com/watch?v=B5AazrlQsM8