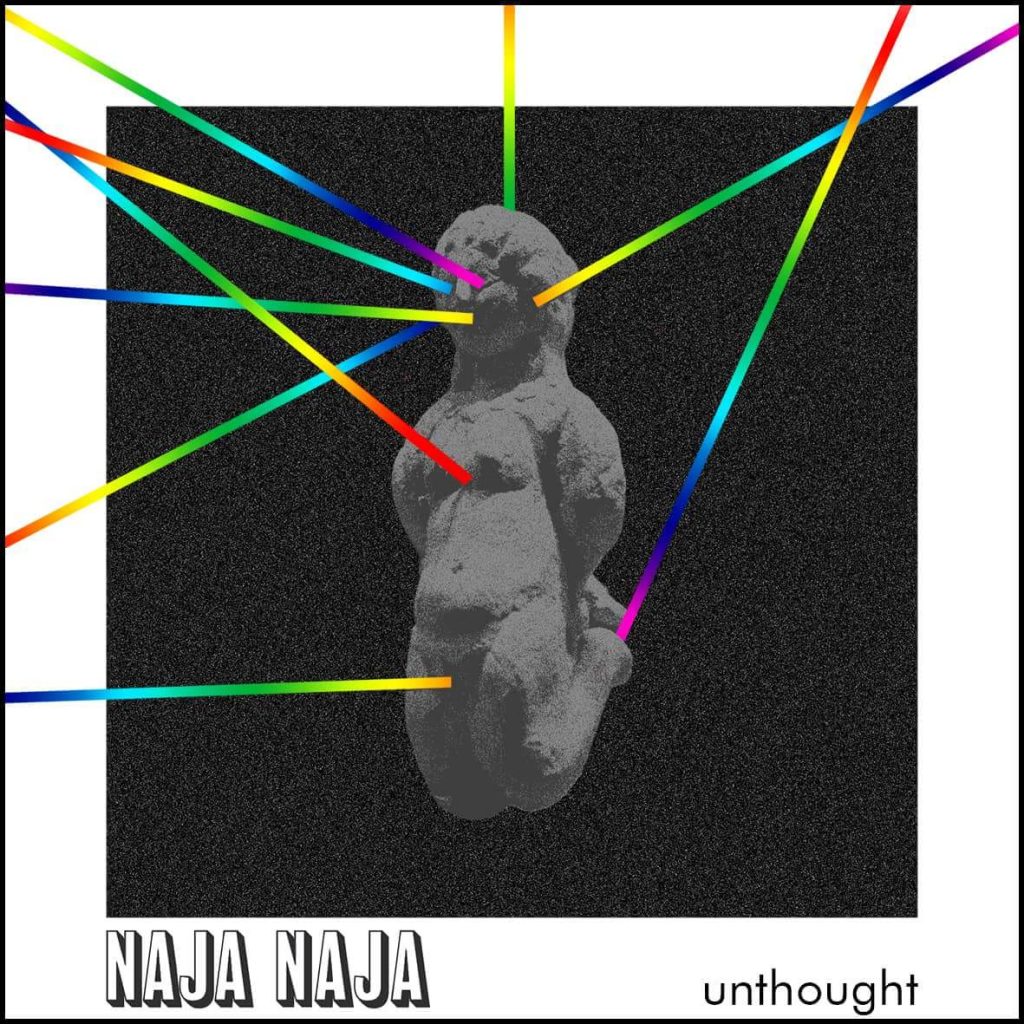 La historia de Naja Naja arranca con la necesidad de generar una propuesta más cercana al pop, tras el paso de sus integrantes, Xavi Castroviejo (PYLAR y Blooming Látigo) y Juan G. Acosta (Malheur), por surtidos proyectos entre el metal, la improvisación y la vanguardia. Esa búsqueda  los llevó a lanzar en 2016 un primer disco homónimo. Ahora, Discos de Nuestra Señora edita su segundo largo 'Unthought', una propuesta en la que la no wave y el post-punk se encuentran con el synth-pop o el avant-rock.
"Queríamos dedicarnos a lo que nosotros entendemos como pop, pero siempre desde una perspectiva casi inconsciente, de ahí el título del nuevo trabajo 'Unthought'. Trabajamos desde la no expectativa, sin premeditar" comentan. Y es que en este nuevo trabajo incluyen sonidos que nos recuerdan a Iggy Pop, a ciertas épocas del Bowie más experimental, a bandas como This Heat! o Morbid Angel, pero también a la darkwave más oscura. Una curiosa mezcla que continúa la senda marcada por su primer largo.
En el homónimo 'Naja Naja' (Knockturne Records, 2016) los sevillanos demostraron su capacidad para navegar por diferentes estilos dando forma a un disco en el que intentaban acercarse al pop. Reminiscencias a Devo, pero también a Talking Heads, se mezclan dando forma a un grupo con la mirada puesta en la década de finales de los setenta y principios de los ochenta en Nueva York, pero sin olvidar un bagaje que los lleva a generar reminiscencias del kraut-rock, el jazz o el metal extremo.
Nueve temas con delicias como 'This is a depression', 'The Cycle', 'Feeding the disaster' o 'Avoiding the Cyborg', en las que los textos en inglés, lengua materna de Xavier Castroviejo, voz y letras de Naja Naja, se unen a la producción musical de Juan G. Acosta (guitarra, sintetizadores y coros). 'Unthought' (DDNS, 2018) ha sido grabado y mezclado por Juan G. Acosta, masterizado en Kadifornia Mastering y con artwork de Gonzalo Santana. Ya disponible en el bandcamp de Discos de Nuestra Señora, pronto en formato casete y en plataformas digitales.
Naja Naja- 'Feeding the disaster'

Muy pronto 'Unthought' al completo en formato digital y cassette a través de Discos de Nuestra Señora, de momento un adelanto: 'Feeding the disaster'. ¡Gracias por escuchar y compartir!

Slået op af Naja Naja i Onsdag den 7. februar 2018